We surveyed 75 entrepreneurs about their daily challenges of running their own business.
Key themes included lack of time, managing time, and staying on top of admin.
There are no two ways about it. You entrepreneurs have a lot on your plate, especially in the current climate.
At Quid, we've been in your shoes. And we're building a solution that makes life easier and saves you valuable time at every stage of your entrepreneurial journey. 
We caught up with our Quid ecosystem founder, Franco Mignemi, to ask where the idea for the Quid originated from.
Franco, what was the inspiration behind Quid? 
It was a combination of frustration and inspiration.
The idea came from wanting to automate and improve the entire entrepreneurial journey. After suffering through the slow, painful process of setting up my own companies.
But I lost so much time in the initial stages of setting up some of my earlier businesses. As a result of inefficient systems, outdated processes and incompatible software. 
I encountered weeks and month-long delays waiting for different applications from different business providers to be processed. I found myself back and forth submitting paperwork for services such as a business bank account at various stages of the process.
Then, once up and running came disjointed technology where the applications I was using were supposed to all be compatible. But were not. Which caused more delays. Add to this multiple access points, excessive admin and even more bureaucracy. 
This was time-consuming, expensive, and incredibly frustrating as a new business owner.
It was also a common theme when I spoke to my peers. Especially for those setting up different entities in several jurisdictions.
When I investigated possible solutions, it was clear that the market is crowded with new "challenger" banks and business providers looking to service individual aspects of a growing business.
But what was missing was a fully integrated ecosystem where all the services a business needs can be found in one place.
To create an innovative online interface that significantly reduced the business set up time. And offered an intuitive approach to customer onboarding, cutting out excessive admin; and
To make the day-to-day running of a business across the world as easy and seamless as possible.
So, tell us about Quid.
At Quid, we are building a one-stop-shop of core business and banking-style tools for SME's.
Our ecosystem is designed to reduce the time to market by giving you access to a fully integrated marketplace of business, payment, and accounting tools.
The idea is the entrepreneur can pick the services they need, in the jurisdictions they wish to enter. And those services will be seamlessly integrated and compatible in a single platform.
Optimising the entire process. And saving the entrepreneur valuable time to spend proactively on product and growth.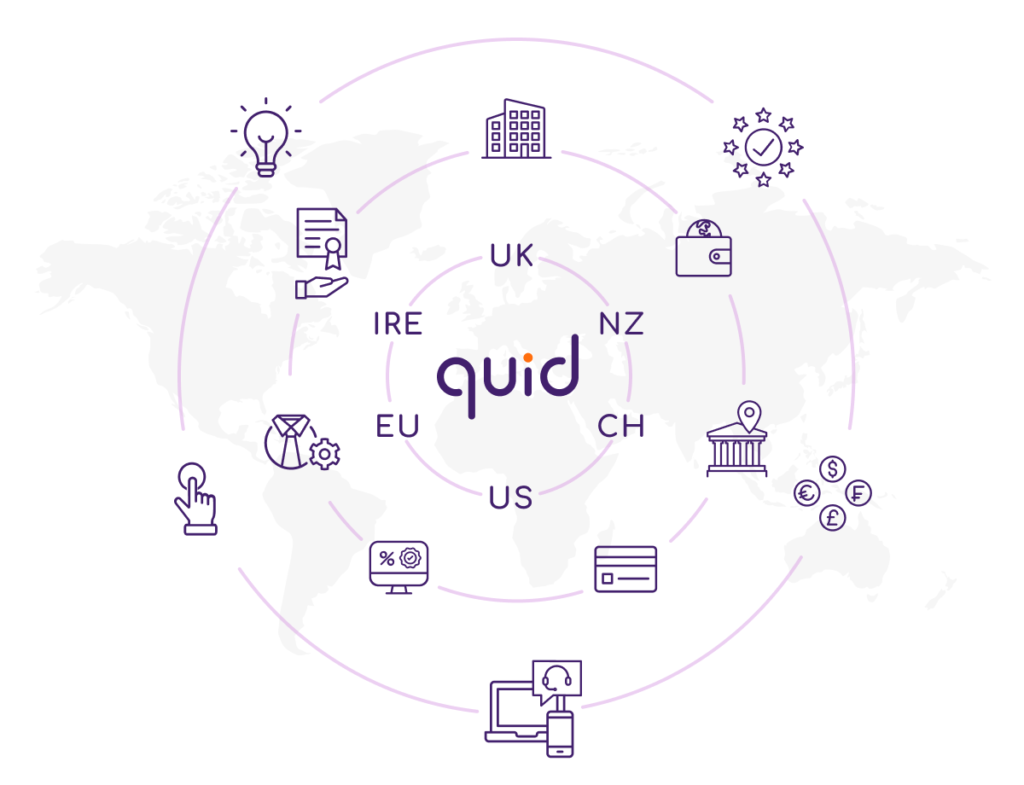 Who does Quid help?
Due to our services global nature and breadth, Quid is ideal for early-stage entrepreneurs such as students, consultants and freelancers, accountants and SME's.
Any business that wants a modern, easy, and software compatible tech-friendly solution to manage a business, Quid is on the journey with them to create a solution that grows with them.
How is using Quid different to using other tools on the market?
One of the greatest strengths of Quid is the ability to manage a business, be it domestic or international, through one single relationship. With a single sign-on. 
We don't believe in a one size fits all business model and have built our ecosystem to support different company structures in multiple jurisdictions.
Using Quid, an entrepreneur can incorporate a company. And open a wallet to send and receive payments on the same day. Check out our startup use case.
Business owners can enter the ecosystem at any point, log in to the Quid dashboard and immediately see what's happening in the core areas of their business.
They can add new services and only pay for what they choose in a few clicks. Without going through lengthy application processes each time. While certain services may require some additional specific acceptance criteria, we have designed onboarding to be as quick and convenient as possible.
As ecosystem founder, what is your proudest moment at Quid so far?
Apart from creating a secure, compliant and integrated ecosystem of modern tools for easier business, one of my proudest moments was when I had to use Quid for a business of my own.
I needed to do the setup of a small company with a very experienced business partner. And thanks to Quid we set up the company and opened a multi-currency account in a few hours.
One of the greatest satisfactions was when my business partner said to me: "Fantastic this platform".
So, what's next for Quid?
Behind the scenes, our experienced team are busy building the global ecosystem comprising of our own services and innovative third-party services outside of our core expertise. We will be bringing more products from the ecosystem to New Zealand. Plus opening up services in the UK and USA.
Finally, what advice would you give to other aspiring entrepreneurs looking to set up in business?
Innovation does not always mean creating new software but analysing aspects of everyday life and trying to see it from a different perspective. Many times the paradigm shift takes place internally and not thanks to new tools.