It's an exciting time when you want to make your new business official, but for many of you, the actual incorporation process of how to register a company in NZ might throw up several items that you have not considered and terms that you may be unfamiliar with.
At Quid, we have significant experience putting together company structures and different types of businesses in several jurisdictions, so we know what it takes to set one up to spec.
What is needed to set up a limited company in New Zealand?
The most common type of company in New Zealand is a Limited liability company. A limited liability company has a "Limited", "Ltd", or Tapui (limited)" at the end of its company name.
A limited liability company is responsible for all legal and financial obligations. It is a separate legal entity from its shareholders. The shareholders, on behalf of the company, are guaranteed a limited liability, hence the name. They cannot be held liable for any company debt or liabilities. Their liability only concerns the contribution of the company's capital.
The other company types are:
Co-operative Company
Unlimited Company
This blog post looks at the most common type, a limited liability company. We've put together an overview of what's involved and a quick checklist of items to have to hand when you are ready to apply for incorporation.
Our overview will hopefully let you speed through the incorporation process and focus on the business of running your new company!
How to register a company in NZ: What you need to know
Choose a Company Name

There are two stages. The first is choosing a unique company name that is not in use or is too similar to an existing company name on the New Zealand Register.

The second stage is reserving the company name. This can be completed before or during the incorporation process and is valid for 20 days.

For example, in Quid, you can reserve the company name and complete the company formation application in one process. Instead of having to apply for both separately.

Once you have submitted a name reservation, our API in Quid, we will indicate its acceptance likelihood. Companies Office will confirm the outcome.


Choose a Business Industry classification

A Business Industry Classification code is required for incorporation and classifies the type of sector you operate within. Companies Office uses it to indicate the activities of a business. You can select a BIC code from a list in Quid when you complete the registration.

A Registered Office Address

A registered office address is a legal requirement for companies registered with Companies office and is publicly available online for anyone to view. The registered address must be a physical address of the company's registered country.

Quid is happy to provide you with a Registered Office Address Service if you wish to keep your residential address private or want to expand into New Zealand and need a physical address. Please contact us for more information if you need help with this.

Tax considerations

An IRD is a unique number issued by New Zealand Inland Revenue Department that identifies you for tax purposes. All workers in New Zealand must have an IRD number.

You may apply later for an IRD number by contacting Inland Revenue or apply for one as part of the incorporation process (like we offer in Quid formations).

Your company is required to have an IRD number by the time it starts trading.

You will need to provide the company tax contact details, which could be an internal employee or someone external such as an accountant.

GST Registration

You will have the option to provide the data required by Inland Revenue so that they can allocate your company GST number upon incorporation.

Registering for GST is only mandatory if you expect your turnover for the next 12 months to be over $60,000.

You can apply to register for GST later with Inland Revenue.

You will need to provide the contact details of the company GST contact (this may be the same person as your Tax contact).

Company Director

All New Zealand companies must have at least one resident director who lives in New Zealand; or Australia and is a director of a company incorporated in Australia.

Quid is happy to provide you with a Nominee Director Service if you want to expand into New Zealand and do not have the required resident director.

Quid can assist in appointing a qualified and experienced New Zealand-based director. Please contact us for more information if you need help with this.

Shareholder

A shareholder can be a legal individual or an incorporated entity such as another company. It is a legal requirement for all NZ entities to disclose the details of their company's shareholders and Ultimate Beneficial Owners.

This information is publicly available for anyone to view on the New Zealand Companies register.

Total number of shares owned

Every company needs to allocate the total number of company shares to each shareholder to determine how much control they have over the company.
How to register a company in NZ? Checklist included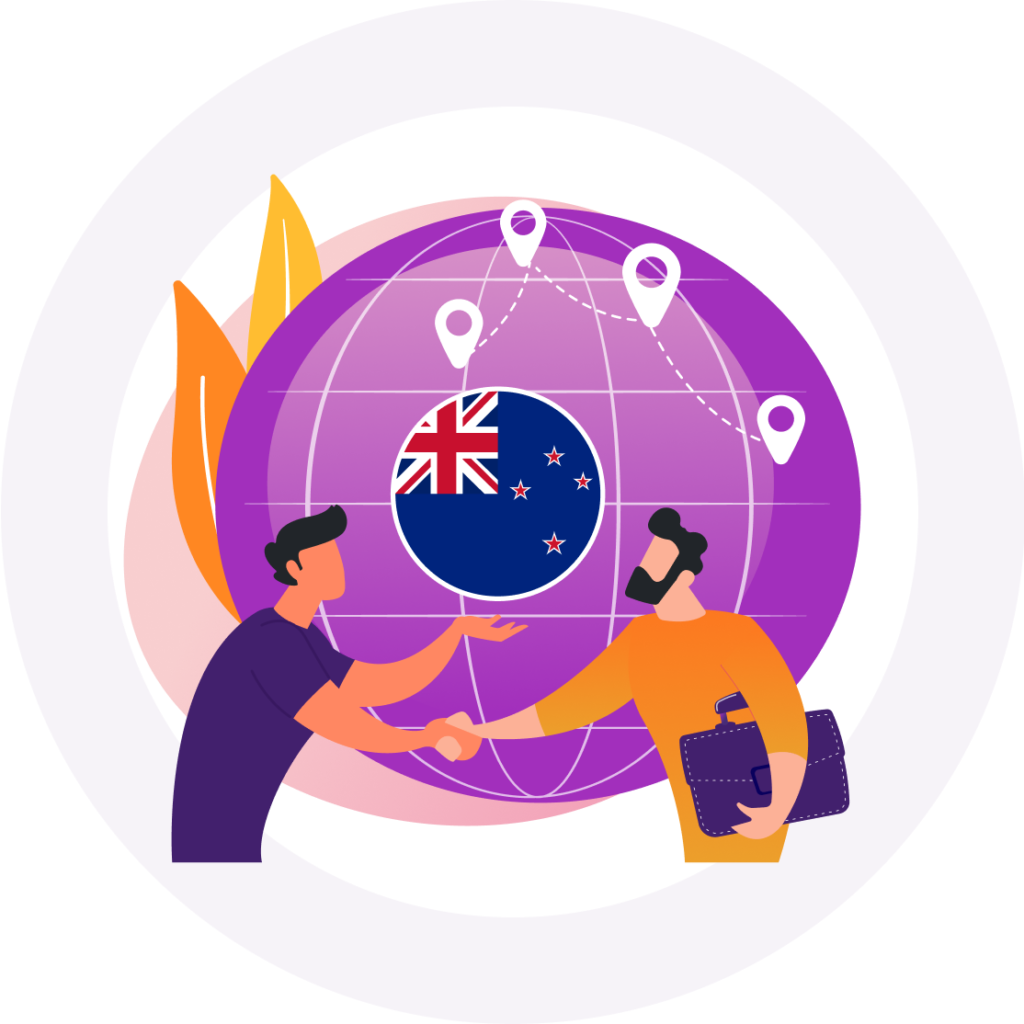 Here's what to have prepared:
Contact details for the company, including the contact name, email, and phone number. If you are an established entity registering a company, you must also provide your company name and company number.

A unique company name is not in use or too similar to an existing company name on the Companies register. Certain characters are not allowed, and it's best to apply common sense and not use restricted words.

A physical registered office address in New Zealand

At least one resident company director

Shareholder – you have at least one resident director

Proof of ID for all directors and shareholders

Proof of Address for all directors and shareholders (issued in the last three months)

Tax and GST contact person and details (if you apply for these at the same time of incorporation) and the month you expect to file your annual return.

If you are applying for incorporation on behalf of someone else, you will be required to have their authorisation. In Quid we just need you to check a box to confirm this if this is the case.

Consent forms need to be completed and signed by directors and shareholders. In Quid, we have pre-filled the documents with the information you entered during the application to save you time. We just need you to print, sign and upload them back to the platform.
How to register a company in NZ: Helpful tips
Firstly, be organised. Following the checklist above and having all the required documents ready, you can incorporate a limited company in a few hours.

Do your research. And don't get ripped off. Registering a limited liability company in New Zealand (if you already have a local director) shouldn't cost more than a few hundred dollars. Check out our company formation costs.

When entering the directors and shareholders details in your application, use their full legal name as shown on their birth certificate or passport.

Please make sure the identity document for proof of identity of the key officers is in colour and with all the edges visible.

For each consent form you're returning, check that: The document image is readable and of good quality. Consent has been given on the correct form. The form is completed and signed. The director and shareholder details match those supplied in your application.

If you are an entity registering another entity, please provide an up-to-date incorporation document such as a Certificate of incorporation, or extract from the local company register. The document must contain

Company name

Registration number

Date of incorporation

Registered address

List of all active directors

List of Shareholders that hold 10% or more of the company

Please read up on what is expected of companies once incorporated, what you may need to keep records of, and your responsibilities to uphold to the law.
Ready to set up a limited company?
So now that you know how to register a company in NZ, there are several ways you can register your company yourself. Directly online or by a company formation provider.
Quid has built an API for New Zealand Companies Office, so you can register your company and get all the official documents and certificates via Quid.
Using Quid, you can set up a limited company online, open a multicurrency global wallet in up to six currencies and keep track of everything on your dashboard.