Entering a new market is exciting and presents a wealth of opportunities for your business.
But it also brings a new set of challenges.
So whether you're doing business in local markets or abroad, you must have the fundamental solutions in place to support your day-to-day operation. Most importantly, the ability to get paid, make payments and reconcile payments.
Collect payments from over 180 countries
Our Multi-currency Global Wallet gives you a simple, secure and efficient way to send, convert and receive money. And you can now collect funds from over 180 countries and territories worldwide!
Open a wallet without delay
Our goal with Quid is to save you time at every step. We help you get to the market quicker without any of the typical delays associated with setting up an account for global payments. So we have streamlined our onboarding process to collect the required identification and business verifications documents as efficiently as possible.
As our team is comprised of global entrepreneurs, we genuinely understand that every business is unique. That's why we work with you to understand your company structure and needs to provide a solution that allows you to send and receive payments at a competitive FX rate.
Multi-currency Global Wallet Inclusive features
Open a wallet in up to six currencies – EUR, GBP, USD, CHF, NZD and AUD
An account number, sort code and IBAN for same currency payments
An IBAN to receive international payments
Currency conversion between wallets
Real-time FX tool for foreign currency payments. We'll even reimburse you if we manage to get a better exchange rate!
Manage multiple client accounts or companies from one profile in Quid
An online dashboard to view all wallets, incoming and outgoing payments, search transactions and filter by date
Access to statements (coming soon)
OPEN A WALLET IN QUID

Who it helps?
Anyone looking to make and take payments in local and international markets.
Firstly, it's ideal for SME's looking to bill international clients in your preferred currency or to keep supplier relationships happy and pay them in theirs.
Secondly, it's perfect for an accountant or professional service provider looking for an easier way to manage and retain clients, and upsell more services in addition to your own core offering.
Lastly, it's a convenient solution for those of us who want to open a wallet for personal use.

Why open a Multi-currency Global Wallet?

Swift access to new markets and opportunities
Quid makes it possible to enter a new market in a few taps. All online, answer a few questions, upload your verification documents, and you're ready to go.

Simple FX between wallets
You can convert currencies within Quid between your different wallets to manage exposure to currency volatility. Use our currency conversion tool to see a real-time quote of what you would pay. Then accept the rate. It's simple.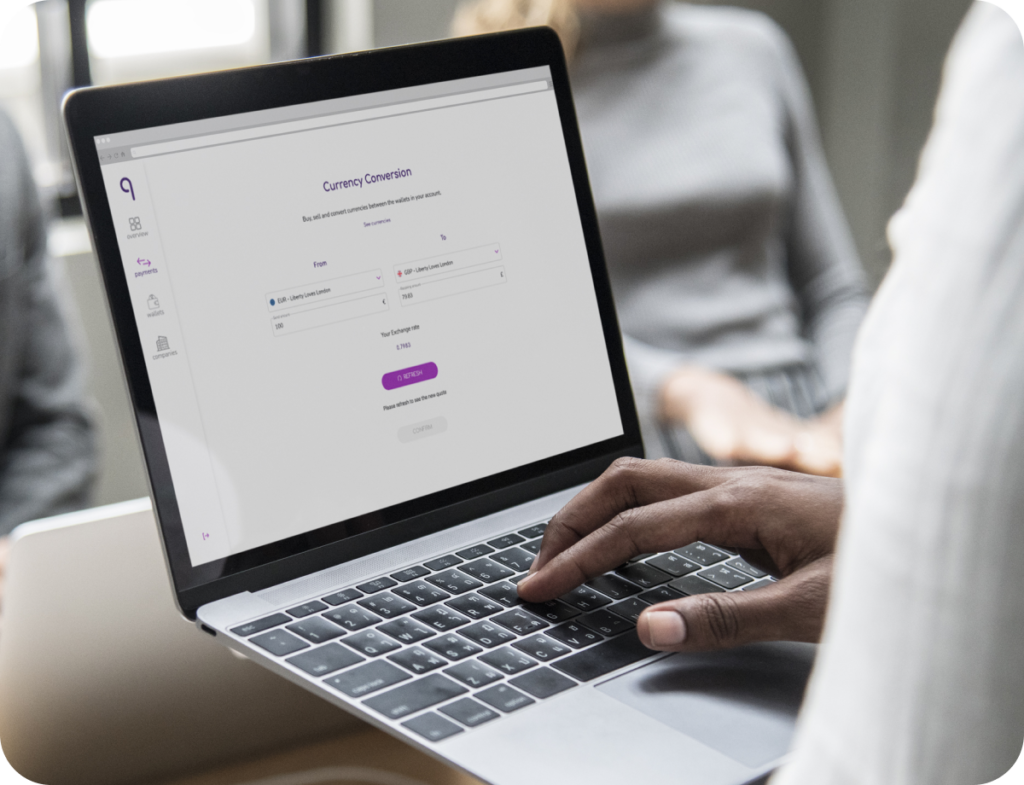 Everything in one place
Using Quid for multiple clients? Add your clients' accounts to your profile and manage them all in one convenient platform to save you time and hassle of logging into separate online banking platforms.
24/7 online access
Plus, Quid gives you access to a growing ecosystem of core tools and innovative third-party services in just a few taps. All integrated into one platform to make the business of running your business as easy as possible!
How to get started
If you're a Quid customer, you can open a Multi-currency Global Wallet directly from your online dashboard.
If you're new to Quid, you'll need to register an account on the Quid platform to open a wallet.
Register an account for free. It only takes a minute.
Upload a few verification documents. Apply for a wallet in a few taps
Once approved, you can start using your wallet or add more currencies straightaway.