Today, global e-commerce is achievable in a few taps.
But how annoying is it when you buy something from an overseas store only to discover a hefty foreign exchange fee added to the price? On top of transaction fees, simply because you are paying in a different currency?
And how quickly that new purchase "high" feeling disappears.
It's the same frustration for SME business owners.
Every business needs to receive and make payments. What happens when your business accepts a payment in a foreign currency, but your account is only set up in the local currency?
Enter the Multi-currency account for business
Today, most businesses with international customers, staff and suppliers will use a Multi-currency account for business to avoid excessive foreign exchange fees and delays.
This quick guide will cover the basics of Multi-currency accounts (also referred to as Multi-currency Global Wallets). And why it's crucial for SMEs with global business aspirations. It covers:
What is a multi-currency business account?
What makes it different to a regular business account?
Do you need a multi-currency business account?
Use cases of a multi-currency business account
Main benefits of a multi-currency business account
What do I need to open a multi-currency business account?
What's a Multi-currency account?
Essentially it's a business account with multi-currency functionality.
And what makes it different to a regular business account?
A multi-currency wallet is a single digital account that lets you hold multiple currencies for local and international payments without managing various separate accounts and logins for each currency.
So instead of having to open an account with a provider in the various countries you wish to operate in, you can open one virtual account. And manage all your currencies in that account.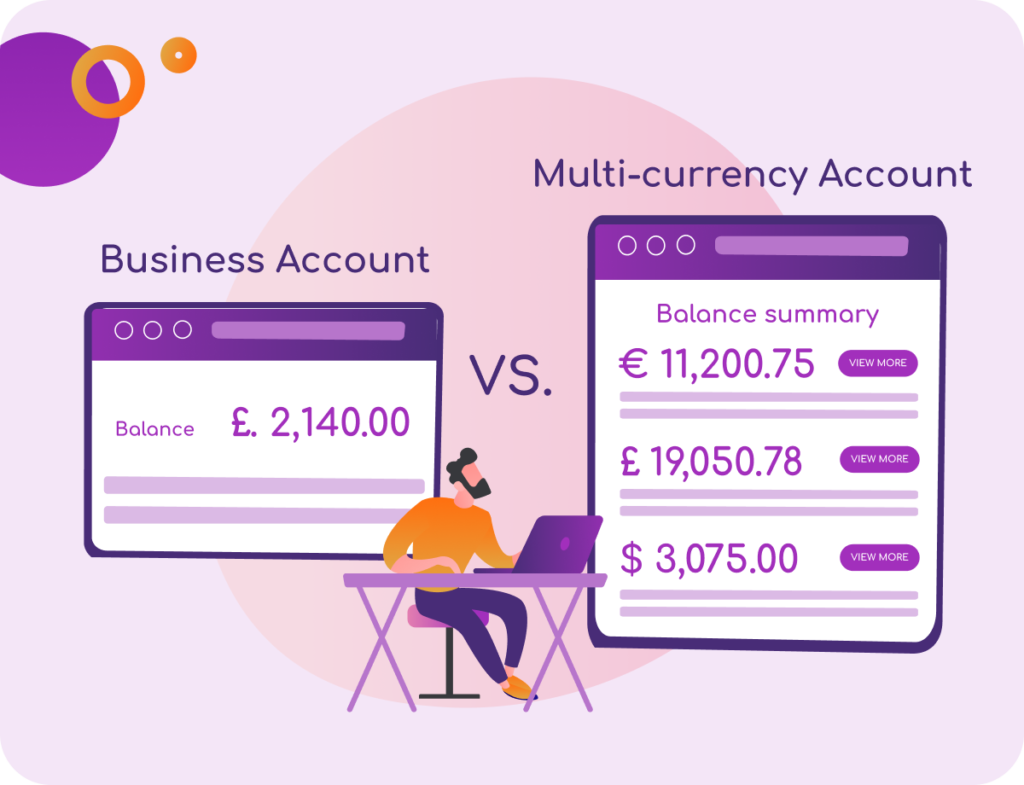 How does a Multi-currency account work?
A multi-currency account enables you to handle domestic and international payments through a single account.
It can facilitate deposits, transfers, and currency conversion and lists all of your transactions with a balance for each currency. You get local and international account details for each currency, and switching between currencies is easy.
So, if you have a GBP account, you get a sort code and account number for the local faster payments. Plus a SWIFT IBAN for international payments. For a EUR account, you have a IBAN for your local SEPA payments. And a SWIFT IBAN for international payments.
Do I need a Multi-currency business account?
While it's not strictly necessary, if you're planning to operate in more than one currency for your business, then generally it's a no-brainer. Particularly from an ease of use, speed of payment, cost control and business strategy point of view.
What does a Multi-currency account allow my business to do?
In short, a lot.
Open multiple currencies in your account
Collect payments from many countries
Share local and international account details with customers and suppliers
Pay staff and suppliers in their currency
Pay expenses and get paid in your preferred currency
Currency Conversion
View all currencies in one account and easily switch between currency balances
What are the main business benefits?
Speed of payment – Nothing is more frustrating for a business owner than waiting on a payment. Having an account with multiple currencies means you can make or receive payments quickly in the local currency utilising the local payment service, such as Faster payments for the UK or SEPA, for European payments.
Convenience – Manage your money in one place through a single provider. Switch between currencies, access balances and view transactions and statements within the same online platform. Plus you have only one login with 24/7 access.
Business growth – Looking at international markets for growth opportunities? Setting up a remote account to accept payments in the local currency will ensure you provide a better customer experience without having to open a physical account in each country. More currencies mean reaching new international customers, which equals more sales and growth opportunities.
Keep suppliers happy – A multi-currency wallet lets you pay your suppliers in their preferred currency, making it quicker and cheaper for everyone.
Cost controls – Built-in currency conversion tools allow you to take advantage of volatile currencies. Plus, you can easily convert between the currencies in your account to access competitive rates.
Easier reconciliation – With all balances, transactions and statements in one account, you don't need to log in and out of multiple accounts when reconciling payments for accounting purposes.
Flexibility – You can choose to just open a balance for the local currency, or a couple of currencies to begin with and then add more currencies as you grow and scale internationally.

How to open an account
You can do it online, and it should only take a few minutes to answer some questions about your business and its key people. Most providers will ask you for a few verification details and request documents to validate your business.
Next, choose your base currency or currencies. Some providers will initially let you open a wallet in one currency, and once the account is approved, you can add more.
Once you have submitted your application and provided the relevant documents, verifying your details and opening the account generally takes a couple of days.
For example, it only takes a few minutes to apply for a Quid Multi-currency Global Wallet, and subject to KYC approval, we can open it within 24 hours. For businesses with more of a complex structure, it could take longer and depends on how quickly you can respond to any requests for additional information.
Key takeaways:
If you accept or make payments internationally, ever-changing rates and costs due to the volatility of currencies are unavoidable.
Make sure your business is fully equipped to take advantage of the global opportunity, especially in the current climate. But while your focus may be on growing sales, make sure you are set up with the appropriate operational account for managing payments in the currencies you need (or will need soon). So you don't get stung with excessive foreign currency fees later.
Lastly, don't complicate things. As a business owner, you already have a load on your plate and not enough time in the day, so keep life simple and manage your money in a single account through a single provider.